MESSAGE FROM THE GENERAL MANAGER
« First of all, thank you for your interest in LOGISTICA SERVICES and PRODUCTS by visiting our site www.logshipping.net. We wanted to express our desire to open access to our products and services to our loyal customers and in general to the visitors that we hope to be able to count among us.
Committed to a growth dynamic, notably through the development of the Tunisian transport segment and the consolidation of our quality relationship with various companies, LOGISTICA offers its customers and partners all transport and transit services as well as ship consignment. and packaging products to guarantee a complementary service with a single counterpart.
Thank you and wish you good browsing on our site.»
View details
Our Services
Our specific concept for a global service integration is a CUSTOMIZED SERVICE that gathers all the components of the transport chain.
Door to Door solutions for all types of worldwide transport whether it is by land, sea or air.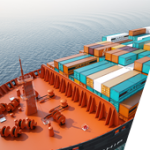 CHATERING & CHARTERING SOLUTIONS
OUR VALUES
We strongly believe that the core of our success is to provide an incomparable customer experience and to strive to deliver continuous improvement. We believe that excellence matters, as does our unwavering commitment to the values on which we operate our business: Added value, partnership and integrity